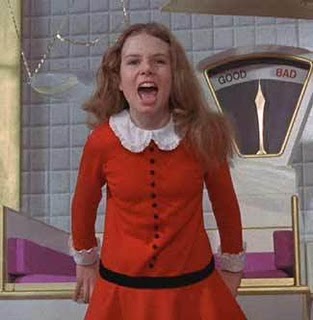 "I want my cinnamon gummy bears and I WANT IT NOW!!!" - Matthew Yazzie at ~8PM
That was my Veruca Salt moment on Saturday night right before heading out for a weekend trip. I wanted two Coke Zeros and three bags of cinnamon gummy bears. Nearest store that carries these is a 25 minute one-way walk and I still had to shower and pack.
Option 1 - Taskrabbit
Sorry buds. My past experience had indicated that you're a little too slow for quick jobs like these, but you're awesome at random larger items and tasks. Also, I have had several "rabbits" not stick to the exact instructions when I've been super explicit. I usually end up with something in the ballpark of original order, but not exact.
Option 2 - TCB Courier
Cool bike dudes. I'm just outside the delivery zone, so my delivery fee alone is $13.
Price of bears, $0.85 x 3 = $2.55
Price of sodas, $1.75 x 2 = $3.50 
Total for snacks = $6.05 < Half of delivery fee = ($13/2)
My items are less than half the delivery fee. Nope.
Option 3 - Postmates
Beta testing a "Get it now" feature this past weekend, PLUS they have March Madness promotion of $4.99 per delivery. Score!
I submitted my order along with a photo I took of the Amazon screen where they had the exact gummy bears I wanted.
The first time around, I got this message.
'Doh! Almost. Tried a couple more times, but no dice.
So, I Tweeted this:
All @Postmates couriers are too busy to pick up my cinnamon gummy bears & Coke Zero. Forced to call an actual courier. twitter.com/mjyazzie/statu…

— m@ (@mjyazzie) March 11, 2012
Then, I immediately got a response back from Postmates CEO with this:

@mjyazzie Matthew, I'm sorry but it looks as if we underestimated the demand. Will send you a promo code to make up for it.
— Bastian Lehmann (@Basti) March 11, 2012
Wow! You go Postmates. You go Bastian! So great!
At this point, it was too late and I had to go, but I thanked him.
The next night, I thought I would try again.
Success!!!
I was enjoying my candy one hour later. Bastian the CEO also generously sent me a code to use for a future delivery. Way cool guy.
I used Postmates once before when I needed a table delivered from Stuff on Valencia. $15 for a two-hour delivery. I had a discount for being a new user, so it was only $10 to have a table picked up, brought to my building, up the stairs, and right into my living room.
Couple thoughts
1. Unlike Uber, it's not clear if we should tip or if the drivers/couriers are paid high enough to cover tips. Clarify this?
2. Currently, there's no website to do the service. As far as I know, you have to download the app.
3. The Postmates app is far better than the Taskrabbit one. Way less involved. 
Love them. Try them out if you have a chance.
Notes
splaice likes this
splaice reblogged this from matthewyazzie
matthewyazzie posted this